I was very impressed by Sunmaya. She may be a bit shy, but she is already very charismatic. I see her winning the world's greatest races in the coming 10-15 years, zero doubt. And I hope she can visit Chamonix and run UTMB Mont-Blanc, and also Oman by UTMB race soon.  
——Rémi Duchemin (UTMB Organizing Committee)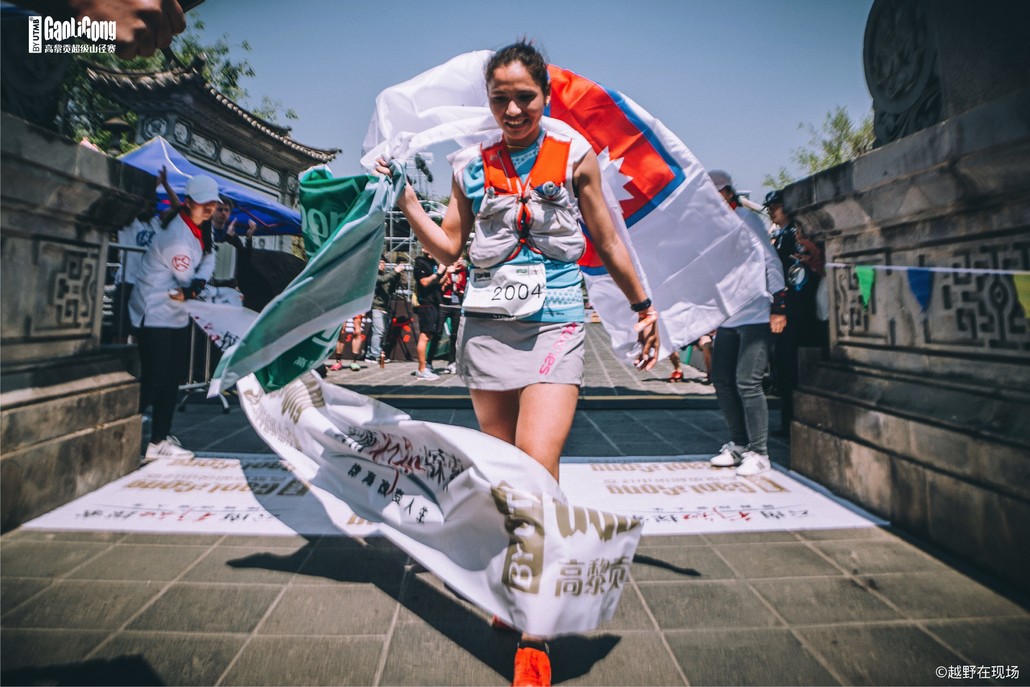 Nineteen-year-old Sunmaya Budha won THT – the 55km division of Gaoligong, coming sixth overall. Thirty-nine seconds faster, and she would have been fifth, and she was just twenty-one minutes behind third-placed male runner. The second placed woman, elite American runner, Meredith Edwards (2016 UTMB TDS runner – up) finished an hour and a half behind Sunmaya.
Sunmaya is shy, and she does not say much, her English is still very basic. "Yes, brother." "Thank you, brother" is what I usually hear from her.
She calls me "brother" since we met at Manaslu Trail race in 2015, in Nepal. Sunmaya was invited by the organizer, the founder of Trail Running Nepal, Richard Bull who helps young promising Nepali athletes. She finished as first woman and second overall in a 200km race high up in the Himalaya.
After Manaslu I asked for her athlete CV – she was living and training full time at an altitude camp in the Himalaya, with other where other promising runners. A local education official duly sent me Sunmaya's CV a few days later.
It was a strange one - together with her list of wins, there was a short paragraph about her family situation: "Sunmaya Budha's family own one goat. They are unable to earn enough money from their land and goat and have to regularly seek manual employment in the city."
Having to overcome poverty made Sunmaya strong. "Strength" and "power" are two things that every runner at Gaoligong who spent time with Sunmaya mentions about her. This is what the runners at Gaoligong who spent time with her thought about Sunmaya:
Michael Wardian (USA) – 2011 World Silver Medallist 100km road
I did not get to see Sunmaya run at Gaoligong, but I wish I did, as heard it was amazing. She is shy but has a fierce determination boiling under the placid surface. Sunmaya is tiny but ate like a sumo wrestler and with the intensity of wolf, but as daintily as a Disney princess.
Her eyes, I think, were the most interesting thing about her. You could feel the passion in her eyes that you knew showed a glimpse of what you would face should you dare to step to the line against her. I really hope she gets the opportunity to continue to refine her craft and please let me know what I can add and how I might help.
Nathan Montague (UK) 2017 MGU runner –up, 2017 Ultra Gobi 3rd place winner of many ultra races in the UK
I was fortunate enough to experience quite a bit of time pre, during and post-race with Sunmaya.
While we didn't share much in terms of dialogue because of the obvious language barrier, but we spent a lot of time together before and after the race. I saw a huge warm smile, and eyes with a shyness and almost youthful naiveté but had this overwhelming sense of strength almost lion like or and an aura surrounding her.
This only came to the fore in the race. While in terms of support I felt a sense of support and guidance to Sunmaya, in the race it was this what she gave to me. While race wise it was a terrible day at the office for me, her strength, effortless and natural approach to the race I was able to see first-hand. While I think, think, think more through the terrain, adjusting to the terrain and to how I was feeling, Sunmaya seemed to naturally do all this.
Her strategies were fluent - from her power hiking with speed up the mountains to gliding down the steep and technical descents and fluently flowing across the flatter sections. While I pushed, she glided. It was a lesson in how pure running really is.
Post-race, she wasn't overwhelmed. There was no self-importance or self-congratulation at her amazing result, but rather took it in her stride, as if it was the most natural thing in the world. It felt like she was almost uncomfortable with the applause she was receiving, met only with a smile and shy turn of the head.
Her performance, technically and tactically, in the race beyond her years.  Her response to the win was natural and pure and is something we all could learn from.
Krissy Moehl (USA) MGU Champion, double UTMB Champion
Sunmaya struck me as quiet, intense, reserved and much older/more mature than her 19 years. My main interaction with her was during the elite runner morning photoshoot before the race. What I noticed was her strong effortless long stride. She seemed to only move from her hips and her legs grew in length with every stride.
Her limited English didn't allow much communication especially prior to our races when nerves were no doubt high.
After her race, I found her in the hotel lobby to congratulate her on such an awesome run. Again, there was not much communication using words, but my pre-race nerves (my own race, MGU was starting soon) and exuberant nature created a smile on her shy face. She seemed to struggle to accept my hug, but her eyes told so much in the excitement she held for her recent effort.
On the way to our start I noticed that she remained close to me. I felt strength by her young presence and her excitement switched to wishing me good luck, and she gave me another shy hug before I joined the other elites. It was very sweet from her. I marvel at how young she is and at her strength and determination.
Gediminas Grinius (Lithuania) MGU champion, Ultra Trail Word Tour winner, UTMB runner-up
Sunmaya is very calm, serene and sometimes shy, but on the trails, she is the killer - Silent Killer!
INTERVIEW WITH SUNMAYA BUDHA
Congratulations Sunmaya! Do you think that winning Gaoligong has been your best result in a running race so far? Why?
Yes, definitely!  The finish time was good and I didn't even know the race was done when I finished!
What was your plan for the race?
I was going for the podium for sure. Richard Bull was with me, so I felt under pressure. As I said, last year, in my other race in China, due to various reasons, I could not perform as I had intended. This year, with more experience, being more familiar with 50k distance and having done better training. My plan was to do my best.
What did you think about when you ran in the lead? Were you stressed? Worried?
Being in lead I knew that there were many strong runners chasing me all through the course, so I was stressed. So, I ran even harder.  
The woman in second, Meredith Edwards, is a world class runner, but you beat her by over an hour. Was she close to you during the race?
I rarely look back when I race, I didn't see her since the start. I would have loved to run some of the course with her and learn.
Did you find the Gaoligong race course easy or hard?
I was enjoying the course very much. After the 4th check-point, I was slightly worried about cramping, but the trail was easy. It was one of my best runs.
How did you prepare for Gaoligong race, what training did you do?
I did some interval training, up and down every day. Nothing specific, I just ran around the hills of Kathmandu.
You won Stupa to Stupa, a 50k race, 3 weeks after Gaoligong, did you feel tired still? 
I haven't done many ultras in Nepal, so even though I was tired, I went for it.
How long did you spend resting after Gaoligong before starting to train again?
I rested for 5 days, then I put my running shoes back on when back to the hills to run. Hills around Kathmandu are my playground.
What was your favourite thing about Gaoligong race?
The course marking was great and the atmosphere was great too. Food was good. And, I loved the trophy! The place also reminded me of my home, Jumla, it also has hills and forest. It was good to have Richard there to take care of me. He was my guardian.
Everyone at Gaoligong, other elite runners, Nathan, Samantha, Daniel, Michael all say that they miss you. Do you have anything to say to them? They all want you to learn English soon so that they can talk to you.
I miss them all very much and very grateful for their help and friendship. Without them the race for me would not have been the same. Some of these people were at the check points to cheer me, which gave me an energy and will to run better. Their presence and company was a joy. I am doing best with my English classes now!
Are you back in training now? What is your training plan for a week?
Yes, I am. Lizzy Hawker and Mira Rai have given me an effective training plan. I have started rock climbing as well. I run every day but not more than 10k. Once a week I do a 30km run.
Are you back in Kathmandu or in Jumla?
I am in Kathmandu for my English lessons.
What are your future plans for racing and training?
After Stupa to Stupa, I went to Everest region for a half marathon and won. It started from above 5400m. I am now focused on Golden Trail Series. (Salomon series of races held around the world www.goldentrailseries.com).
What are your plans for your future?
I want to run more. Get some good racing done and win, hopefully. I am looking for sponsorship, to have the freedom to pursue my dreams. I want to teach and train the younger generation of runners in the future.
Is your family proud of you and do they support you?
I come from a traditional background so running was not encouraged. I was asked by my parents to pay more attention to my school studies but now they are happier with my goals and with my running, because II bring home many medals. They are proud but still want me to improve my English.
Do people recognize you on the street in Nepal now, like they recognize sister Mira?
I am not as popular as sister Mira. Still, I have people all over Nepal, who support me. It makes me very happy.
Which race do you most like to run in the future?
Golden Trail Series, this my only focus right now.