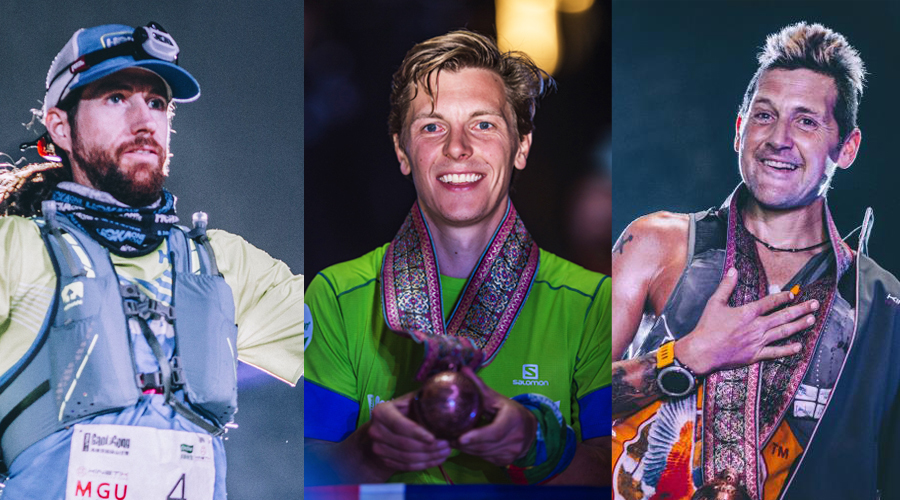 The three Ultra Gobi alumni had a very different experience at Gaoligong – Alfie surprised everyone by coming 4th - a month before the race he wanted to pull out, being worried that his lack of fitness will not allow him to get a good result and that the organizers will be disappointed.
Daniel Lawson came fifth, but the last year's champion and Ultra Gobi Champion was not disappointed at all – he said "he was happy to finish".
Michael Wardian continued with bad luck in Chinese races. Just like in Ultra Gobi, stomach problems affected him, and Michael had to pull out.
These three runners were impressed by organization of the race, but what really impressed and touched them was welcome they were given by the local people.
How did you feel in the race?
Michael: Dizzy, lightheaded, it was like the first time you do an ultra, and do everything wrong. It was the worst feeling… stupidity, that's how I felt… I would try something, but my body would say: No, no, that's not gonna work! I don't know what caused my stomach issues, I was really careful before the race, I felt good for the first 6-7 hours. But then I started cramping, feeling dizzy and throwing up.
How does Gaoligong compare to UTMB?
Michael: Similar in that it is an adventure. The slogan: "Run into a Discovery", reflects it. The night start, I really liked that, and it creates a big build-up, the start had so much energy! The finish line had so much energy and enthusiasm also. The people in the villages were super excited to see us!
The course was incredibly well marked – professionally done. All the aid stations were laid out efficiently, and had great facilities – food, massage, rest area, different types of liquids.
It was great that it was Chinese, uniquely Chinese – beer at aid stations, noodles, rice, those things, new cultural experiences, they make you want to travel to races.
Also, similar to UTMB, we had great views from many points. Some sections were jungly, some were tracks, then the historical Tea and Horse Trail, it had great variety. I was delirious, but I was thinking: Man, this is beautiful!
Alfie: The course, it was hard – I remember thinking this Tea and Horse Trail is hard! They must have really liked tea to carry it up these mountains!
Daniel: It was tough. Course changed from last year, the start was a lot tougher. I was running and thinking: "I don't remember this!" The pain was unbelievable, but you learn more about yourself through pain. I am happy I finished.
Did you see any animals on the race course?
Michael: We heard something, but we didn't know what it was. It was like a cat hissing, whole trees were shaking and I said: "Dan, I don't know what this thing is, but, keep going, whatever it is, it is not happy!"
Daniel: Local people embraced the race straight away, the support from side lines was brilliant, here the relationship with the people is special. Personally, I love running through local villages in ultras, here in Tengchong the locals had the most beautiful faces, weathered smiles, when they smile at you – give you a jia you – it leaves a really nice impression.
Did you feel similarities with UTMB?
Daniel: It is easy to put a race in a beautiful place, but much harder to make a race have a connection with the people. In so many ultras, runners turn up, then leave. But at UTMB, Spartathlon, there people feel pride that you are through their village. It was the same here at Gaoligong, even more so, I think.