Samantha Chan's smile lit up the Gobi desert during Ultra Gobi race last year. Smiling and laughing, usually at herself, is something this Hong Kong runner does a lot.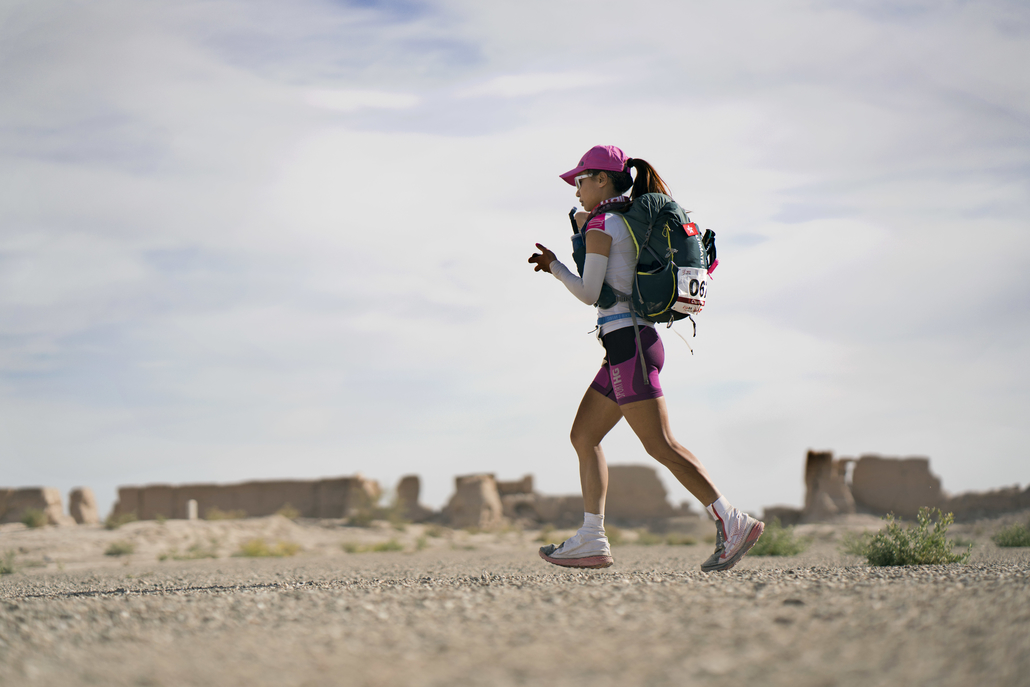 (Image: Lloyd Belcher Visuals)
She will laugh if you call her elite athlete, but her results at 100km distance qualify her for elite title: 13th at TDS® last year, winner of mixed team Trailwalker 100km, 10th at Hong Kong 100, 9th at The North Face 100 Hong Kong, winner of Kanas 100km in Xinjiang. There are other wins and podium places that she struggles to remember.
Samantha cries and laughs in measure during races, so much so, that she calls herself "emotionally weak", but Michael Wardian, an elite US runner, who raced the 400km Ultra Gobi together with Samantha, disagrees: "Man… this girl is tough, she is a real badass!" Michael does not praise runners lightly - he is world 100km silver medalist.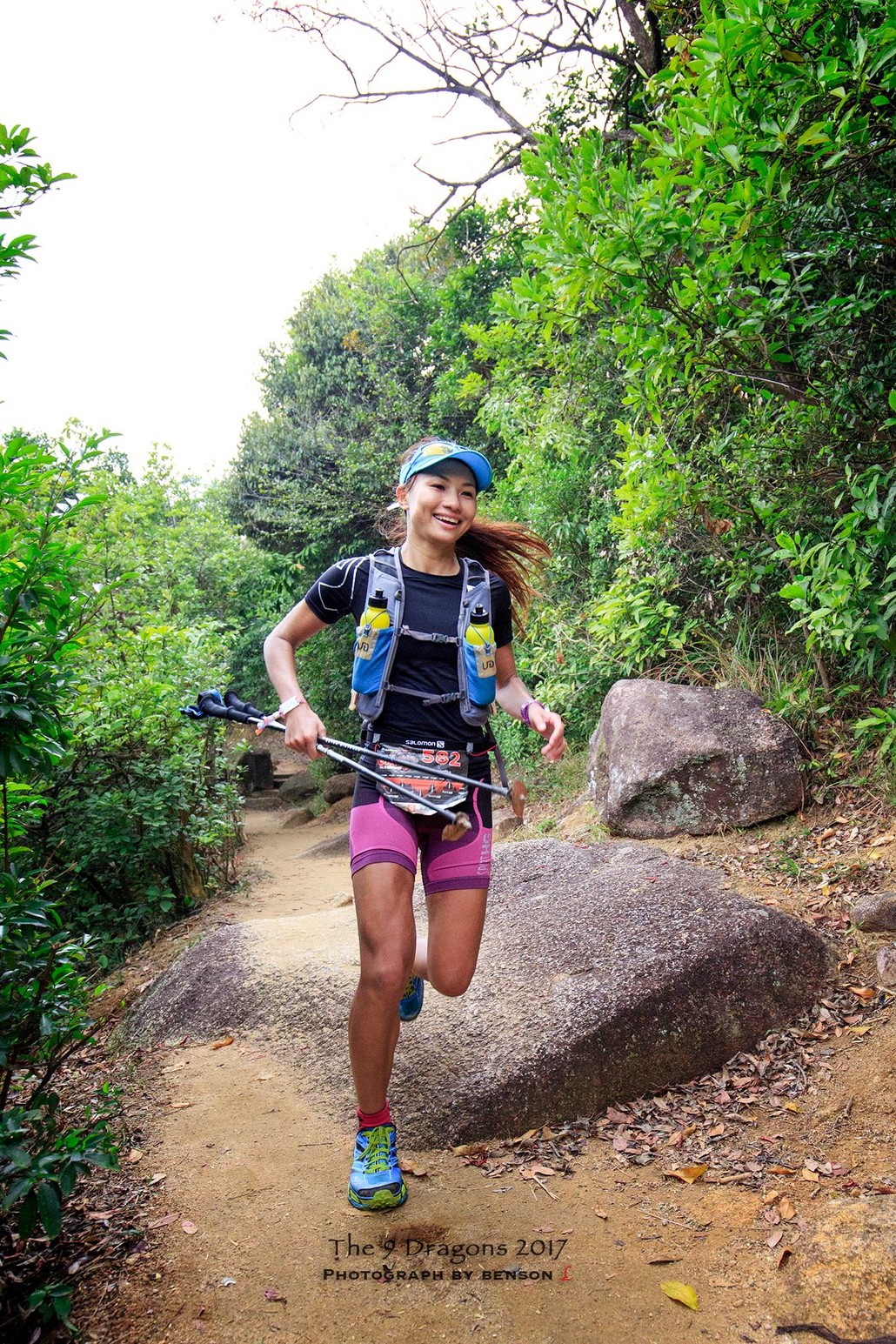 (Image: Benson Li)
Samantha's background made her tough – she comes from real Hong Kong, not the luxurious Hong Kong of people who work in finance, but working-class Hong Kong, Hong Kong of a housing estate. She grew up in a small apartment where her large family lived together, money was scarce and so was space. This space, the freedom, both mental and physical, schoolgirl Samantha found on the running track when she joined Watsons Athletics Club with whom she continues to train now.
On the track she also discovered the "happiness that comes after the pain when running hard". And to get that happiness she ran hard, hard enough to allow her, as a 14-year-old, to run 400m in 65 seconds and 800m in 2min 30 seconds.
She then put herself through university working various part-time jobs - I even sold electronics, and I know nothing about them! - she laughs. Independent and self-reliant, these qualities came through in Ultra Gobi - she attacked the desert alone, navigating alone, putting faith in her own decisions where to go in the emptiness of the desert at night.
Samantha is honest about what makes her happy – food and running. She loves to eat - French fries, ice cream and friend chicken. After finishing Ultra Gobi she shyly asked for fried chicken, but none could be found in the city of Guazhou at almost midnight, despite the best efforts of our race staff and drivers.
Samantha and UTMB® have a history – she has done UTMB twice and TDS once, and calls UTMB® "an unforgettable race". Unable to get into the UTMB lottery this year, she is coming to Gaoligong by UTMB - Mont Blanc has to wait till 2019, when her fellow runners and the spectators will be able to see that famous smile once again. And there will be plenty of fried chicken afterwards.
Hello Samantha, we have not really spoken since Ultra Gobi! First, question, how long did it take you to recover after Ultra Gobi? (Note: Samantha was third female and 15th overall in Ultra Gobi 2017).
I think, I am still recovering from that race! Both physically and mentally.
Everyone is very excited that you are coming to Gaoligong by UTMB! Also, there will be two more Hoka athletes – Michael Wardian and Hayden Hawks, who are happy that you will be part of their team at Gaoligong.
I only know Michael, from Ultra Gobi, but not Hayden. I am excited about meeting them both!
You had trouble with your stomach at HK 100 and had to pull out. We know that you have been preparing for this race and that you have always done well in this race. What exactly went wrong and are you disappointed?
Yes, I was disappointed, I was well prepared for this race, trained hard for it. I did feel strong during the weeks before the race. My poor performance in the race surprised me. It's my first time I had abdominal cramps and puked during a race. I am still not sure what the problem was. It is over now. I will recover and prepare well for my next race.  I am recovering from this now, and I am planning to start training next week.
You have chosen the 125km RCE, is 100km your best distance?
Yes, I think 80-120km is my best distance. 
What do you consider your best result in races so far?
I consider finishing a race safely, happily and strongly as a best result. So far, I still see 2016 UTMB as my best race.
Why is that? You did not run a fast time.
UTMB was unforgettable. My performance surprised me so much - I was able to push harder in the last 50km than I did in the beginning, and finished strong, I did a negative split for that race! It is true that did not rank well, it took me 41 hours to complete the race.
Actually, I never expected a good result in such a world-class race. Also, I was back then one of those trail runners who would just like to experience UTMB and finish it, that was one of my ultimate goals back then!
The airline lost my luggage, I was sleep deprived, I only slept 2 hours before the race and I performed better than I thought under those conditions.
I was also very glad that I still looked fresh after such a long time in the mountains without any sleep! (laughs).
Actually, several elite athletes at Gaoligong have track background, just like you – Qi Min, Hayden Hawks, Nathan Montague. Did track make you a better runner?
Yes definitely. Track built up my cardio and made me into a real runner when I was still a child. Track training also made me mentally stronger both for training and races.
What is your weakness as a runner, something to work on?
As a runner, I am too emotional, this hinders me to perform to my best ability. Secondly, I am not disciplined when it comes to eating and nutrition, that also has affected my performance in the past. Thirdly, I think a good runner should perform well under any conditions, but I can't handle cold! I always try to avoid running in cold weather - anything under 10C is too cold for me to run! (laughs).
You did UTMB twice and TDS once, and in TDS you did extremely well, coming 13th! Did you expect this result? Tell us a little about it.
I did UTMB twice and TDS once, I came 13th in TDS last year. But this was very unexpected! I was injured 2 months before the race and I didn't think that I recovered 100%. I had problems with my ITBS, shins and feet. During the race, I just wanted to finish without suffering too much.
Plus, the intention for me was to do TDS® was just because it's few days before UTMB, so that after finishing the race, I could still support my friends who did UTMB. So, my own racing was not the priority. The result was a bonus.
Don't you consider third place at Ultra Gobi last year a good result, if not the best result of your running career?
I think…. Ultra Gobi was…more than a race, its memories for me are not race memories, they are…like a life-long memory of a great experience. I was in too much pain during Ultra Gobi, I did not show my true running ability during this race.
Many elite runners who have seen you race, think that you can do very well at UTMB, we know you did it for fun both times, aiming for a finish not a placing. Have you considered preparing for UTMB and aiming at, say, top 15?
I want to do a well prepared UTMB, and without surprises like losing all my luggage! I want to do it at good pace, and get a good result. But I couldn't get into UTMB this year, so maybe next year.
Do you still eat fried chicken and ice cream in preparation for races?
 Yes! (laughs)
RCE at Gaoligong is very runnable, great smooth trails, not technical, what is your strategy for the race?
I've not yet started thinking about the strategy. But I am excited to go to a new race and run on a new course. I like unexpected courses, with lots of unknowns – it is exciting!
Do you think you will be smiling or crying more at Gaoligong?
I am not sure yet, will see. I hope lots of both, because If I am crying a lot, this means I push a lot! If I am smiling a lot, that means - lots of happiness!
You are famous for taking great care in selecting running outfits for your races! Have you chosen an outfit for Gaoligong already?
Not yet, it is still too soon. I will start a week before the race!