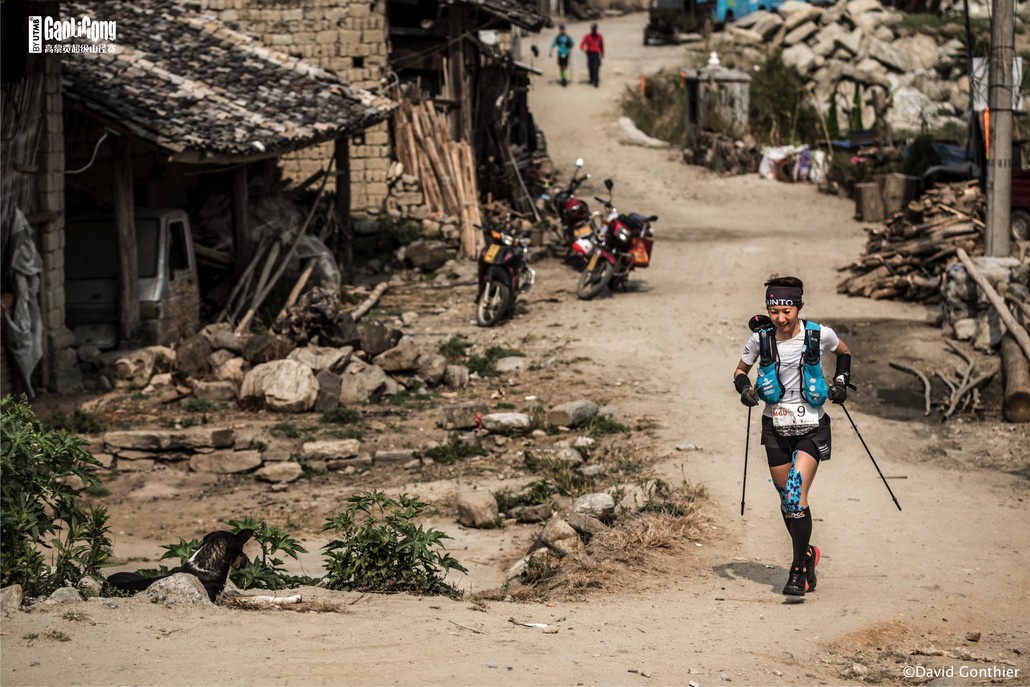 Kaori Niwa is our Japanese elite runner – she is Japanese Skyrunning Champion and her best result is last years 4th place at UTMB, which she remarkably achieved with a broken wrist. Kaori is an all-round athlete – she used to compete in dressage (horse riding), and in addition to running she is an excellent ski mountaineer. Kaori always seems to battle adversity in races – broken wrist at UTMB, and now an attack of anaemia at the recent Hong Kong 100, which prevented her from doing well. She promises to be in top form at Gaoligong by UTMB, and she is looking forward to spicy food in Yunnan.
Q:Gaoligong / A:Kaori Niwa
Kaori, you just ran HK 100, but it did not go well, you were 20th?  What went wrong?
Kaori: I had stomach problems, and I also had anaemia. The doctors say that I am not producing enough blood cells. I need to do detailed tests.
Are you disappointed?
Yes, very much, but I knew I was not feeling in good health, so I expected that I would not do well.
Do you have a race before you come to Gaoligong by UTMB®?
No. I am going to do a lot of skiing! (laughs)
You also compete in ski mountaineering, correct?
Yes, I started skimo and back country skiing long before I started running! I started running only in 2012.
In skimo you have to ski up hills, the higher up you can get, the more distance and time you get to ski down! So, I started to train in summer, I started running up hills to be able to ski up higher in winter. I loved it and kept doing it!
You speak excellent English!
I lived in Australia for several years, I was training and racing horses there. To make money I worked in stables, looking after horses.
You competed in horse riding?
In dressage. But horse riding is too expensive in Japan! Last time I rode horses was when I went to Reunion Island to do Diagonale des Fous.
Oh, and how did you do in that race?
I came 7th, again, I did not do as well as I expected. I started well, going steady, in the middle of the race I felt too good! So, I went too fast! Soon I got exhausted, felt very hot, and also my anaemia problems started. I felt dizzy, no energy. I then had blood tests back in Japan, had to get iron injections twice a week. I then competed in Hong Kong in Lantau 50k, came 3rd, so I thought that my anaemia problems were over. Then, before Hong Kong 100 I did a blood test, and found out I was not producing enough red blood cells.
You were also 4th at UTMB last year.
I was very very happy with that result, considering that I ran with a broken wrist! One month before UTMB I ran in Tromso Skyrace in Norway. I fell and broke my wrist. I could not do anything afterwards – not even wash! My friend in Norway looked after me like a nurse! (laughs)
How did you train then?
I could not run, it was not good for bone healing. I did a bit of weight training, a bit of walking on treadmill, then started to run slowly on treadmill. Two weeks before UTMB I was able to run in the mountains again. Actually, I thought I was not ready, that I was unfit!
At UTMB, I did not care about the result, did not care about people around me, becaue I thought I would not do well anyway. I kept a steady, easy pace. My friends who came to support me did not tell me my position until I was at 125km mark. I was feeling great when they told me that I was in forth position!
That year the weather at UTMB was really bad, it was very coldm I think that everyone pushed too hard and then suddenly got very cold and lost energy, many runners pulled out. I was lucky because I had not pushed at all at the start, but at the last bit I pushed hard, and came forth! I could not believe it!
You love skiing. How long have you been skiing for?
More than 20 years!
Do you ski or run more now?
Now I do more running than skiing! Last year, I never ran during the ski season, I just skied all winter, my first running race was in April! This year, I already did HK 100 in January!
Where do you live in Japan?
I live in Kyoto – it is very good for running. My house is 5 minutes from trails.
What is your weekly mileage?
Depends on how tired I am or how close to race it is, usually, I run over 100km a week. I do gym training also, and last Christmas, my husband bought me a bike and I have been riding also since.
Is your husband a runner?
Yes, but just for fun, I am a lot faster than him! (laughs)
Do you have a full-time job?
I work part time, at University, as a secretary for a professor, but I am very busy – I work, I also have to do house work, look after my husband and two dogs! (laughs) My dogs are my training partners, they are called Mark and Choki!
What do you know about Gaoligong?
Nothing, but people tell me it's beautiful place.
So, it will be a complete discovery for you?
I don't even know how to get there, no idea! (laughs)I know it is far away, on the edge of China!
Do you like spicy food?
Yes!
Then you will like Yunnan and Tengchong!